By Christopher Wilde 
I confess that I watch Smallville (Thursdays on the CW) and have for sometime.  There is a very basic adult reason I watch a show that is clearly aimed at a thirteen-year old audience; Lex Luthor, played by actor Michael Rosenbaum.  I first started tuning in during the third season, which lured me back to watch all previous episodes.  Rosenbaum's performance as the spoiled rich kid conflicted by inner demons, seduced by power, and struggling against the constant impositions of his Machiavellian father, played by John Glover, were fresh air in the pantheon of Superman portrayals.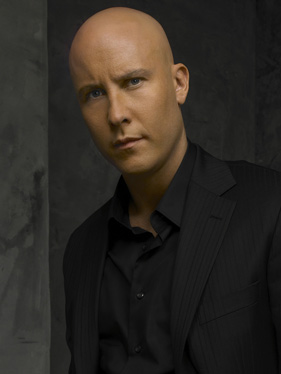 In Smallville the character of Lex Luthor might have gone on to enjoy a privileged life, righted the wrongs of his father, and become a benevolent billionaire; a superman among normal men.  Instead as normal man with the advantage of wealth his life is turned upside down when a car accident sends him to his near death.  His life would have been ended were it not for a teenage Clark Kent who intervenes miraculously.  Trying to uncover the connection between the mild mannered farm boy (Clark Kent) and the impossible event is the obsession that drives Lex Luthor into a horrible, power obsessed madness far in excess of his father.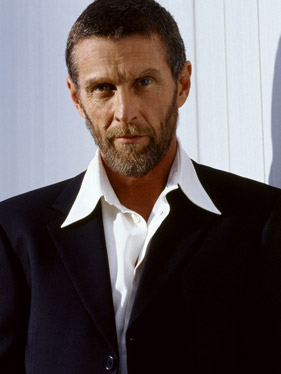 It is because we ultimately know what Luthor and Clark are to become that this decent is enjoyable to watch.  The show highlights our basic internal struggle between the choices that define our character as mere mortals.  Michael Rosenbaum seems to know this and the episodes in which his good side is repeatedly beaten out of him reflect his best work.
None of us can be the alien Superman, perfect and invulnerable.  Because Superman is so good is one of the reasons he quickly becomes a stale boring character.  What has always defined Superman is the human weakness in each of us that leads to the pure villainy found in his enemies.  The show should never be a boxing match between powerful foes but a road map that shows us if we don't succumb to evil then we are like the more elevated Superman.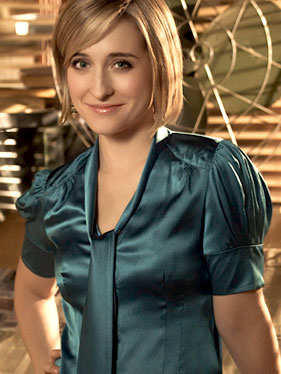 Smallville is suffering sagging ratings, Michael Rosenbaum will not be returning in season 8, and now TV guide is reporting that Allison Mack, who portrays Chloe Sullivan, maybe leaving over contract negotiations.  Chloe Sullivan is Clark Kent's long time confidant, popular know it all can do anything heroin, and one of only a handful of characters who knows Clarks super secret identity.
Smallville may need to hold on to Allison, but only because the writers or producers seem stuck in the past.   For years now Smallville has retreated again and again to storylines about meteor freaks (humans mutated by Kryptonite) and the tired moral message that keeping secrets is bad (sometimes secrets save us).
It would be a mistake, far too soon, to bring in someone else to play Lex.  Instead the writers should look at this as a chance to remake a rich and darker Smallville to bring back the audience who grewn up with the show.  Lex Luthor is a rich and powerful man, he has always needed to go on hiatus so that Clark Kent can fully transform into Superman and Lex can become the ultimate Super-villain.
Metropolis: Man of Steel
The solution of Smallville's problems are easy. Pay Allison whatever she needs to come back to Smallville and make season 8 the final season.  What would have been season 9 can be the début of the first season of Metropolis: Man of Steel (and I can't make that loud enough)!
Here's my proposed plot for season 8.  Lex Luthor, played by Michael Rosenbaum in a two hour episode, makes his final struggle against good and evil necessitating the desperate need for Lex Luthor to coldly kill his father.  He puts his affairs on hold, turns his companies (headquartered in Metropolis) over to a "trusted ally", and walks into a third world jungle to force himself to survive among the poorest of people (part redemption, part trial by fire).
Chloe Sullivan, caught up in the horror of the situation is egged on by Clark's inability to transform into Superman.  In several swift progressions over the first quarter of the season she transforms herself into a character more evil than the show has thus seen.
Her wickedness must be rooted in the constant compromises she makes trying to protect Clark who is perpetually reluctant to follow his destiny.  That means Chloe must be given constant moral choices that are so gray, yet so dark, it is easy to see why she takes them.  They must be moral choices that resonate with the audience in a very real world way.
From the start of season 8 Clark must identify his weakness (a desire to be human).  To be human is to be vulnerable, and Clark must constantly be touched by problems super powers can not solve.  He must constantly struggle against crises which can only be solved by shaking people out of apathy and bringing them together.  It is normal people on the periphery that do the actual work that solve the long term problems.  Clark catches the falling man and is the catalyst for them to unite.
Because Chloe knows Clark's secret the only real light of hope within her is that out of loyalty and love she takes Clark's secret to the grave.  However throughout all of season 8 she cannot help but to secretly put other people in danger in ways that force Clark to stretch his super abilities more than he has before.  If Clark is trying to solve a small local problem of street thugs that thrive because good people do nothing, Chloe is forcing Clark to run to Africa or the Middle East because she has provided nuclear secrets to petty dictators in order to force our hero to solve the world's big problems.  If she happens to make a few sacrifices,and a trail of tattered lives, all too reflective of the small local problems Clark was trying to solve, "Oh well," she might remark, "bad things were going to happen anyway I just sped them up so you would step up to the plate!"
This will set the stage and provide the motive for Clark to transform from farm boy to reporter.  He can not save Chloe from making bad choices and in the final episode of season 8 her choices lead to her devastating death.  If in that episode you can make me cry then Clark will have earned the right to become Superman, a beacon for apathetic people to unite around.  Metropolis can hail the return of Lex Luthor, and if the producers want or need to they can enlist a brand new cast of actors for a brand new show.
Not only would this ensure the franchise on the CW it would give the current cast far more emotionally complex roles.  Hopefully they will get to perform some powerfully dramatic scenes that show, after seven seasons, these actors have earned their chops and can perform in any movie Hollywood might offer them as they move forward in their careers.  The CW should not worry about the darker story lines but should use it as an opportunity to beef up their prime time to a level that can compete with the major networks.
If you like this article and CW to take my advice email a link of this site to the CW under the heading: THE DEATH OF SUPERMAN feedback@CWTV.com or show your support by clicking on an ad you like.